/
/
/

Novodevichy Convent and Cemetery
Novodevichy Convent and Cemetery
Explore the convent and cemetery of Novodevichy, one of Moscow's most attractive monasteries. Walk in the convent's gardens and get to know its history and visit well known grave sites in its cemetery.
Duration: Approximately 4 hours
Available: daily except Thursday
Available Languages: English, German, Italian, French, Spanish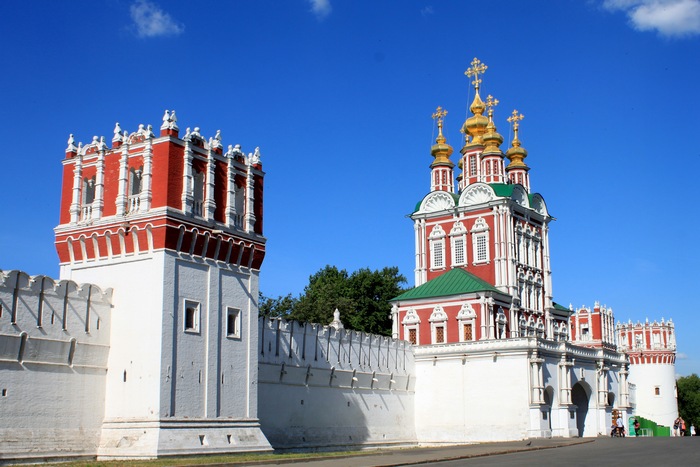 The red and white crenelated walls and golden domes of Novodevichy Convent make it one of Moscow's most attractive monasteries. Situated a short walk from the Luzhniki Sports Stadium in a tranquil southern suburb of Moscow and inside a bend in the Moscow River, the Convent's leafy gardens are a pleasure to stroll in during the summer months and a welcome retreat from the bustle of the city. Most of the capital's monasteries were built between the 13th and 16th centuries, not merely as religious centers but as fortified structures with the express purpose of defending the city from Tatar and Pole attacks. Novodevichy Cemetery, the most famous cemetery in Moscow, was inaugurated in 1898 when it was judged that there were too many burials within monastery walls. One of the first notables to be buried there was Anton Chekhov, whose gilded tomb is the work of Fyodor Shekhtel. Today, the cemetery holds the tombs of Russian authors, musicians, playwrights, and poets, as well as famous actors, political leaders, and scientists.

Includes
Private guide service
Hotel pick-up
Metro ticket
Entrance fee to the Convent
Please note
Children below 5 years old are free of charge if accompanied by two adults.
This tour does not include transportation. Public transportation will be used during the tour.
We recommend you wear comfortable walking shoes.
PRICE OPTIONS
Number of quests in a group, price per person

From 6 to 10 pers

(big group)

From 2 to 5 pers

(mini group)

1 person

(single traveler)

Price per adult

70 €

125 €

380 €

Price per child

70 €

125 €

380 €
Note: 2 people as a group go as 1 person + tickets price