Notarial Services
To submit the necessary documents to state bodies in other countries or to legalize foreign documents in Russia, a notarial certification of translation (i.e. certification of authenticity of translator's signature) is required.
To make your passport (power of attorney, contract, certificate etc.) valid outside the territory of the country where the document has been issued/drawn up, it is necessary to notarise the translation of your document. Notary's signature and seal confirm that the person who has performed the translation, (who also appends his or her signature in this translation) has a document supported high level of foreign language knowledge.
With our assistance you can also make a notarized copy of your document.
You can find out more about the prices for notarial services here.
When translations of foreign documents are notarized they are filed to the originals! You can make notarized copies of your foreign documents only in the country where these documents have been issued. You can find more information on this question in the section below.
LEGALIZATION OF DOCUMENTS. APOSTILE
Common form of apostille: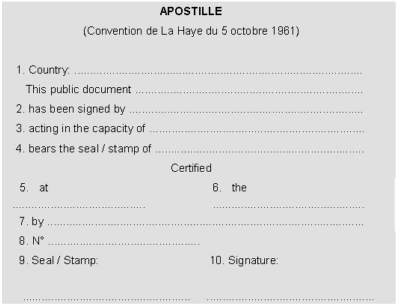 Apostille is the most rapid and convenient form of document legalization, in case you need to submit it to state bodies of another country (a participant of the Hague Convention 1961).
Minimum term of apostille execution comprises 10 working days.
In the Russian Federation apostille is put in Russian upon the notarized copy of an original document.
In case of the necessity to translate the document into a foreign language, translation is performed over the apostilled document, and then such translation is notarized.